Menu for Shelton Westside Pizza Location
Mar 18, 2019
Menu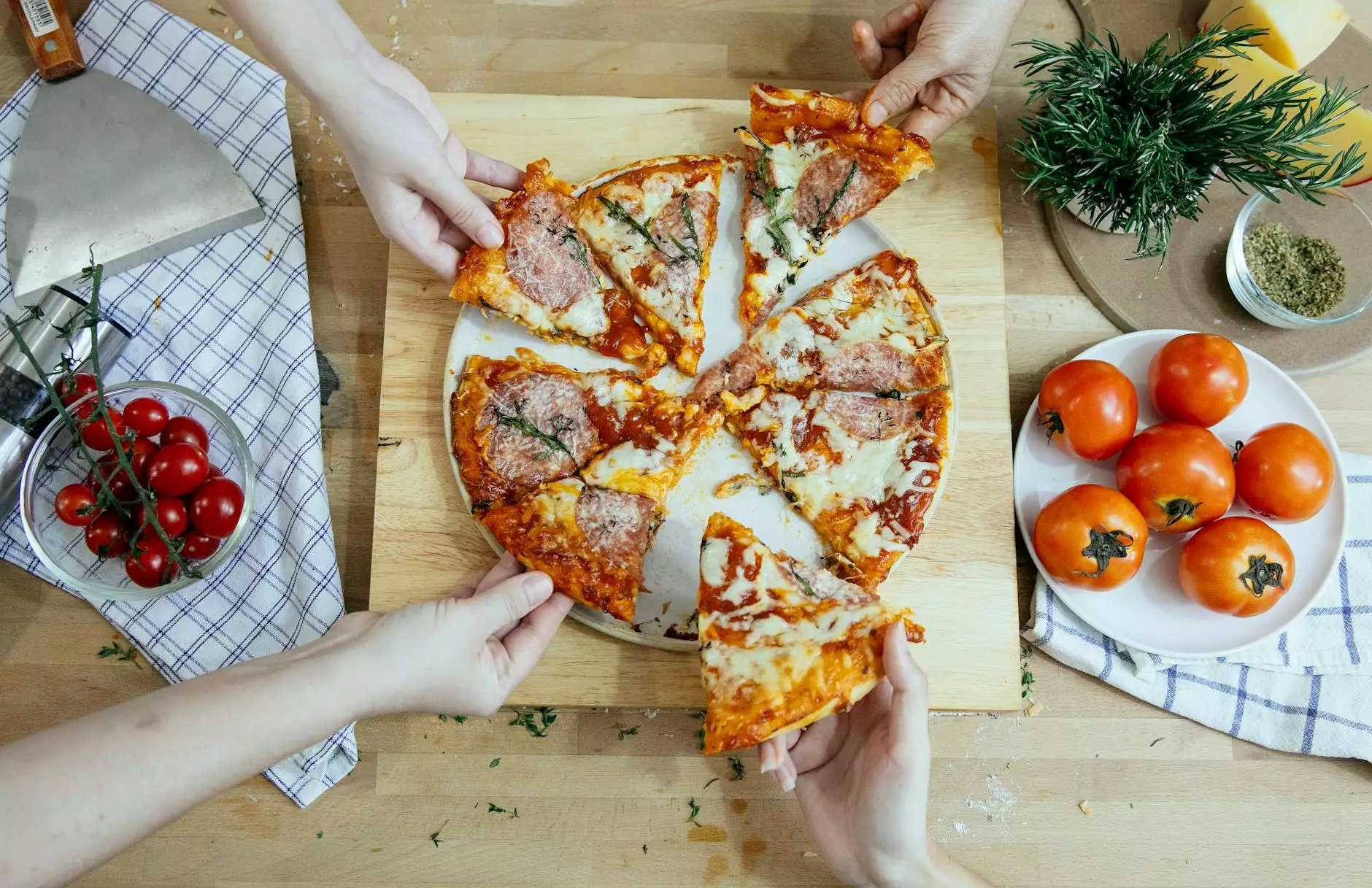 Explore Our Delicious Pizza Options
At Andy's Coffee Break in Shelton, we take pride in serving the best pizzas made with the finest ingredients. Each bite is crafted with love and dedication by our passionate chefs. Our menu offers a variety of tantalizing options to satisfy all taste buds. From classic Margherita to indulgent BBQ Chicken, we have something for everyone.
1. Margherita Pizza
Our Margherita Pizza is a timeless classic. Made with fresh tomatoes, basil, mozzarella cheese, and a drizzle of olive oil, it captures the essence of authentic Italian flavors. Every bite is a burst of freshness and simplicity. Pair it with a glass of your favorite wine, and you have a match made in culinary heaven.
2. BBQ Chicken Pizza
Are you ready to indulge in a flavor explosion? Our BBQ Chicken Pizza is loaded with tender grilled chicken, smoky barbecue sauce, red onions, and a blend of cheeses. The combination of savory, tangy, and slightly sweet flavors will leave you craving for more. It's the perfect choice for those who love a bit of extra zing in their pizza.
3. Veggie Supreme Pizza
Vegetarian or not, our Veggie Supreme Pizza is a must-try. Packed with an array of vibrant, seasonal vegetables like bell peppers, tomatoes, mushrooms, olives, and onions, it is a colorful feast for the eyes and taste buds. Every bite offers a delightful harmony of flavors and textures that will leave you satisfied and nourished.
Delectable Appetizers to Kickstart Your Meal
Before diving into the main course, why not tantalize your taste buds with our mouthwatering appetizers? At Andy's Coffee Break, we offer a wide range of irresistible starters that are perfect for sharing or enjoying all to yourself.
1. Garlic Knots
Our Garlic Knots are the epitome of indulgence. They are freshly baked to perfection, each knot generously coated with a blend of garlic butter, herbs, and Parmesan cheese. These savory bites are addictive and will keep you coming back for more. Dip them in our homemade marinara sauce for an extra burst of flavor.
2. Mozzarella Sticks
Crispy on the outside, gooey on the inside, our Mozzarella Sticks are a cheese lover's dream. Served with a side of tangy marinara sauce, these golden sticks of joy are the perfect combination of textures and flavors. Whether you're enjoying them as an appetizer or a snack, they never disappoint.
Fresh Salads for a Healthy Delight
Looking for a lighter option? Our fresh salads are crafted with the utmost care, using the finest and freshest ingredients. They are not just healthy but bursting with flavors that will leave your taste buds dancing with joy.
1. Classic Caesar Salad
Our Classic Caesar Salad is an all-time favorite. Crisp romaine lettuce, crunchy croutons, Parmesan cheese, and our creamy Caesar dressing come together to create a delightful symphony of textures and flavors. Add grilled chicken or shrimp for a protein-packed twist.
2. Mediterranean Salad
Get ready for a taste of the Mediterranean with our refreshing Mediterranean Salad. Bursting with freshness, this salad features mixed greens, juicy cherry tomatoes, sliced cucumbers, Kalamata olives, feta cheese, and a tangy vinaigrette dressing. It's a perfect choice for those craving a zesty and wholesome meal.
Indulge in Irresistible Desserts
No meal is complete without a sweet ending. At Andy's Coffee Break, we offer a delectable selection of desserts that will satisfy any sweet tooth. Prepare to be delighted by our heavenly treats.
1. New York Cheesecake
Our New York Cheesecake is a slice of pure bliss. Creamy, rich, and velvety smooth, it's a dessert that will melt in your mouth. Whether you're celebrating a special occasion or simply treating yourself, this classic dessert is a guaranteed crowd-pleaser.
2. Chocolate Lava Cake
Ready to surrender to chocolatey goodness? Our Chocolate Lava Cake is a chocolate lover's dream come true. With its warm, gooey center and a scoop of vanilla ice cream on top, every bite is a heavenly experience. Indulge in this decadent dessert and let it transport you to a state of pure bliss.
Place Your Order Today
At Andy's Coffee Break in Shelton, we are dedicated to providing you with a memorable dining experience. Our menu items are carefully crafted to titillate your taste buds, and each bite is a testament to our commitment to culinary excellence. Whether you're looking to enjoy a classic Margherita Pizza or savor a slice of heavenly New York Cheesecake, our Shelton Westside Pizza Location is the place to be.