Strawberry Coconut Margarita
Aug 13, 2022
Menu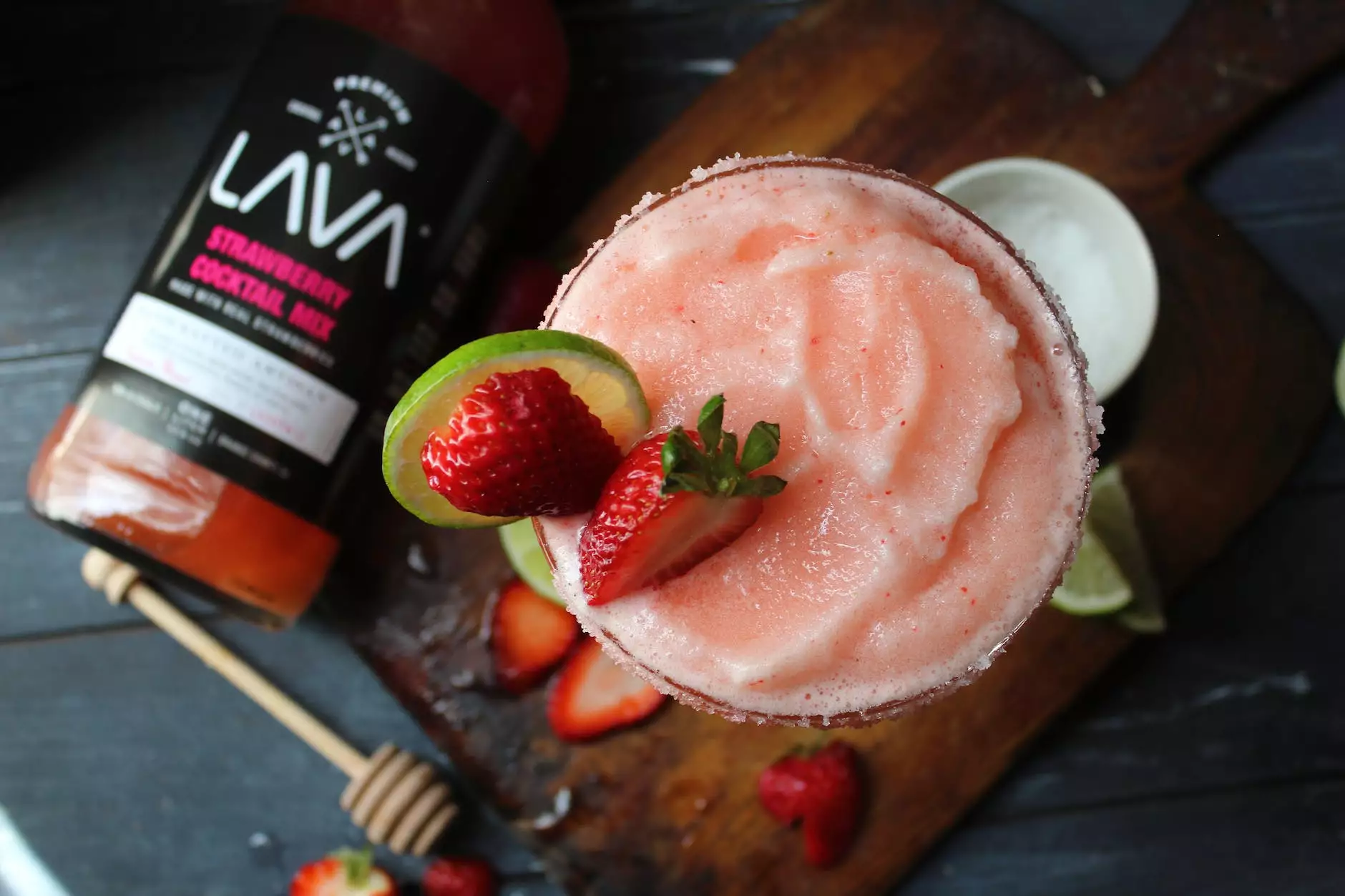 Introduction
Welcome to Andy's Coffee Break, your ultimate destination for all things delicious. In this article, we present to you our tantalizing recipe for the Strawberry Coconut Margarita. If you're in the mood for a refreshing cocktail with a tropical twist, look no further. This delightful concoction will transport your taste buds to paradise. Let's dive right in and learn how to whip up this irresistible drink!
Ingredients
1 cup fresh strawberries, hulled
4 ounces silver tequila
2 ounces coconut milk
1 ounce freshly squeezed lime juice
1 ounce triple sec
2 cups ice cubes
Salt or sugar, for rimming the glass
Lime wedges and strawberry slices, for garnish
Instructions
Follow these easy steps to create your own Strawberry Coconut Margarita:
In a blender, combine the fresh strawberries, tequila, coconut milk, lime juice, triple sec, and ice cubes.
Blend until smooth and creamy.
If desired, rim the glasses with salt or sugar by running a lime wedge around the rim and dipping it into a shallow dish of salt or sugar.
Pour the blended mixture into the prepared glasses.
Garnish with lime wedges and strawberry slices.
Enjoy your homemade Strawberry Coconut Margarita!
Tips and Variations
Here are some tips and variations to enhance your Strawberry Coconut Margarita experience:
1. Frozen Strawberries
If fresh strawberries are not available, you can use frozen strawberries instead. Just be sure to thaw them before blending.
2. Coconut Water
If you prefer a lighter version of this cocktail, substitute coconut water for the coconut milk. It will add a subtle tropical flavor without the creamy texture.
3. Sweeteners
Feel free to adjust the sweetness of the margarita based on your preference. If the strawberries are very sweet, you may not need additional sweeteners. However, if you prefer a sweeter drink, you can add a dash of agave syrup or simple syrup.
4. Tequila Options
For a smoother and more refined taste, you can use reposado tequila instead of silver tequila. Reposado tequila is aged for a short period, which imparts a distinct flavor profile to the margarita.
Why Choose Our Strawberry Coconut Margarita?
At Andy's Coffee Break, we take pride in curating the finest recipes to delight your taste buds. Our Strawberry Coconut Margarita stands out for several reasons:
1. Fresh Ingredients
We believe in the power of fresh, high-quality ingredients. Our margarita is made with plump, juicy strawberries, tangy lime juice, and creamy coconut milk. Each sip bursts with vibrant flavors.
2. Easy to Make
Our recipe is designed to be simple and accessible, even for novice mixologists. You don't need any fancy equipment or advanced techniques. Just blend, pour, and enjoy!
3. Perfect Balance of Flavors
We've perfected the ratio of ingredients to create a harmonious blend of sweet, tangy, and tropical flavors. The strawberry and coconut combination is a match made in cocktail heaven.
4. Versatility
The Strawberry Coconut Margarita is incredibly versatile. It's a great choice for casual gatherings, summer parties, or simply when you want to treat yourself to a refreshing drink.
Conclusion
Ready to elevate your cocktail game? Try our Strawberry Coconut Margarita recipe and transport your taste buds to a tropical paradise. With its luscious blend of fresh strawberries, coconut milk, and tequila, this delightful margarita is sure to become a new favorite. Visit Andy's Coffee Break today and unlock a world of delicious recipes and culinary adventures!